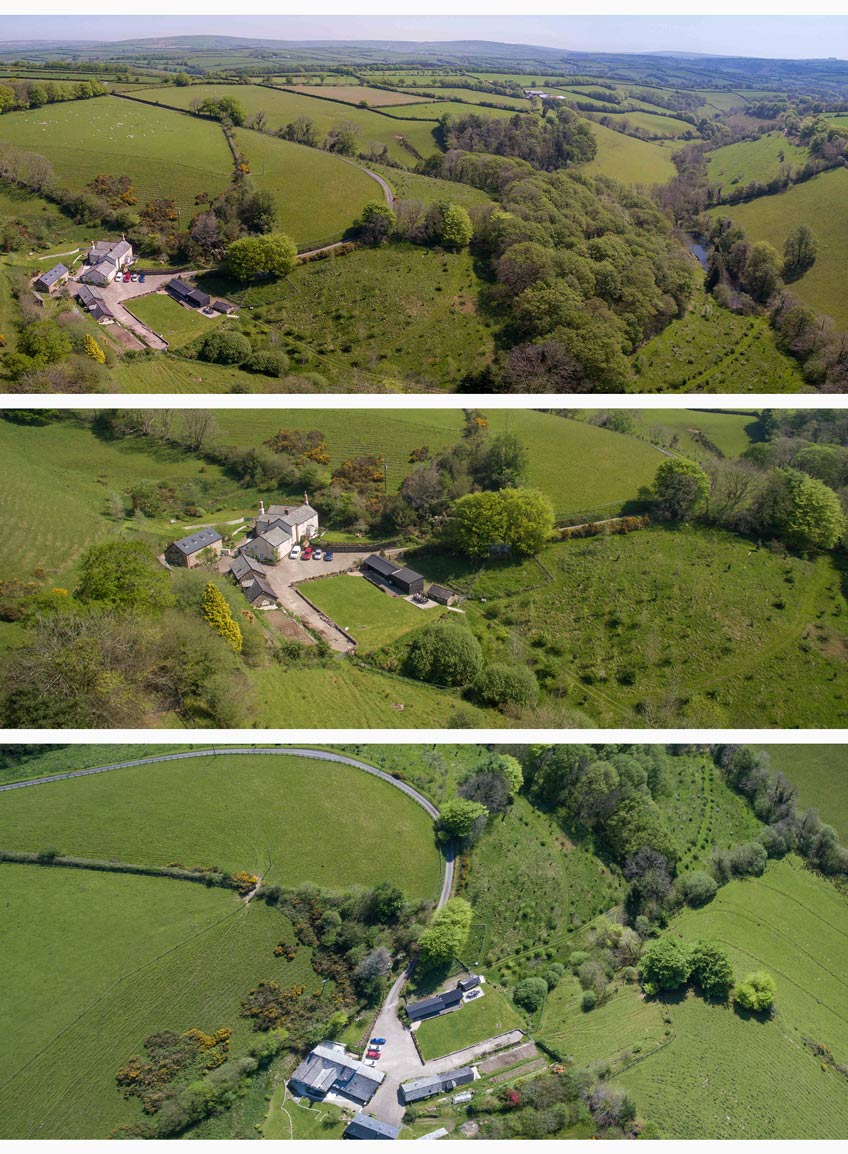 Welcome to Down farm
An idyllic 53 acre organic estate in the heart of the North Devon countryside providing self catering holidays in an amazing setting for Families of all sizes, Larger Groups, Couples and Friends…
We are conveniently sited on the edge of Exmoor in North Devon and are completely surrounded by lush Devonshire countryside. Our valley borders with Exmoor National Park and contains an amazing variety of landscapes within its 267 square miles. Within a 10 mile radius of Down Farm, you can experience not just Exmoor's beautiful moorland, but its majestic woodlands, its rolling valleys, its quaint thatched villages, rugged coastline and timeless traditional farmland, all shaped by people and nature over thousands of years.
Our holiday's can be let week to week commencing on a Monday or Friday, Midweek Breaks & Weekend Breaks. During high season we only let Friday to Friday weekly lettings. We are also perfect to combine the properties to enable larger groups visiting, or contact us about a couples only rates out of high season. Smaller groups wishing to hold an intimate celebration are also very welcome. Please see our Weddings & Occasions listing.
Send us an email or telephone us to discuss your requirements.
But the real draw is the farm, you're not just renting a holiday cottage, you're exclusively renting a 53 Acre Playground.
Copper Kettle Cottage
 
Through the rose and honeysuckle framed stable door entrance to Copper Kettle Cottage you enter into a beautiful galley style kitchen with fully integrated kitchen appliances and every modern convenience you could require.
Ladybird Barn
 
An array of comfortable sofas, armchairs, beanbags, squashy cushions and a wonderful log burning fire, with a long silver flue that juts up and through the ceiling above.
down farm
 
Love North Devon Holidays are owned and run by myself, Amanda, my husband, Adrian along with the help of our sons Lewis and Frazer.
Watch our official video below
Love the lake
We have a stunning setting around our "Secret" freshwater lake, with a large wooden lake house that is hidden away and can only be accessed along a magical woodland track, it's not easy to find, secluded from the farm by the woods.
Love the farm
The farm is not a working farm, more like a glorious parkland Estate, surrounded by 100s of our neighbours, grazing Devon Longhair Sheep. We are however still very proactive in the farming process at Down Farm. We are active members of the Woodland Trust, the Countryside Stewardship and holders of a holding number to keep Piglets in the top wood, it enables us to participate in the management of our Farm.
Love North Devon
We are just a few miles from North Devon's award winning beaches, Picturesque fishing villages and dozens of hidden gems. Just minutes from the A399, it is very accessible to get to, while the secluded setting means guests get away from the hoards in summer and find some tranquillity.
Love the woods
We are blessed with 2 woodland areas at Down Farm. The smaller wood is about 3 acres, we refer to this wood as the Christmas tree plantation, and this is where the Buzzards live alongside the resident Deer and Hares.
This is a heavenly spot to sit, with glorious views over our Valley and North Devon. A wonderful Devonshire stone wall encloses the wood; this is where we keep the pigs sheltered from the summer sun. There is also a hay barn, which is resident to a Barn Owl, this you will hear in the distance at night calling his song...It really is magical.
Reserve Your Relaxing Holiday
Ancient woodlands to explore, A fresh water swimming lake to cool off in,
Quiet areas to reflect and relax, And meadows to skip and dance through…
An organic playground for serious
Memory Making.